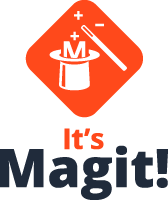 Please help me improve Magit
Keeping its users
this excited
is
a lot of work
. If Magit makes you
more productive too, then
please consider making a donation
.
Thank you! — Jonas Bernoulli
Please help me improve Magit
Many users are quite excited about Magit in its current form, and I am thankful for all the positive feedback.
But I believe that, with your help, I can make it even better. Please consider supporting my continuous work on maintaining, improving and documenting Magit, and helping its users.
Thank you! — Jonas Bernoulli
FAQ 1: What other payment options do you accept?
Please keep scrolling or jump there.
FAQ 2: What payment option do you prefer?
I prefer options that come with no, or very, low fees. Of course I like these options because it means I get more money, but it is equally important who does not get a cut when we avoid unnecessary fees.
In practical terms, that means that I prefer bank transfers. Nowadays many banks have web-pages and apps, that make it nearly as simple to transfer money as the offerings of platforms that focus solely on money transfer. So even if you avoided using them in the past, it might be worth giving them another chance.
FAQ 3: I already use something else for donations. Can I stick to that?
Of course I welcome all donations! Since most developers only accept donations through one of the popular donation platforms, it makes sense to stick to that for all your donations. It is certainly better to make donations using an expensive offering, than it is to make no donations at all because doing so would be too time consuming.
Currently only a tiny fractions of the donations that I receive are done using bank transfers, so don't feel bad if you don't do that either. Still, it might be worth investing some time, making sure a greater part of your donations reach the intended recipients.
FAQ 4: Can you send me a bill?
Of course! Just ask me for one in an email.
By the way, while your employer may not have a budget for donations to free software, they might have one to buy any software or support. I would be happy to send them such a bill.
Bank transfers
Use ACH direct deposit if you have an US bank account.
Use IBAN if you have a European account. This might also work for other non-US bank account.
Payment processors
Compared to (at least European) banks these charge higher fees.
Donation platforms