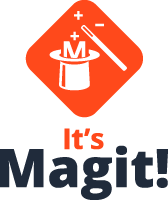 Help making it better
Keeping its users
this excited
is
a lot of work
. If Magit makes you
more productive too, then
please consider making a donation
.
Thank you! — Jonas Bernoulli
Please help making Magit even better
Many users are quite excited about Magit in its current form, and I am thankful for all the positive feedback.
But I believe that, with your help, I can make it even better. Please consider supporting my continuous work on maintaining, improving and documenting Magit, and helping its users.
Thank you! — Jonas Bernoulli
Alternative donation methods
IBAN
If you would like to make a IBAN transfer, then please contact me. I can also send you an invoice for accounting and taxing purposes.
Crypto currencies
Bitcoin
1KvLZpbo1AZCPsMJidUyLxS44uXGBxxHgK
Ethereum
0x90c98E49862d2Ac495BCA94342426D4e90286Ef5
Alternative subscription methods