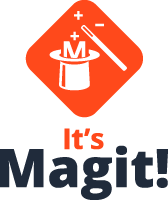 Help making it better
Keeping its user
this excited
is
a lot of work
. If Magit makes you
more productive too, then
please consider making a donation
.
Thank you! — Jonas Bernoulli
You can find some alternative donation methods
below
.
Please help making Magit even better
Many users are quite excited about Magit in its current form, and I am thankful for all the positive feedback.
But I believe that, with your help, I can make it even better. Please consider supporting my continuous work on maintaining, improving and documenting Magit, and helping its users.
Thank you! — Jonas Bernoulli
Alternative donation methods
While the above donation methods are by far the most popular, there also are a few alternative ones, just in case you prefer one of these. I've hidden these methods a bit because studies have found that offering to many options actually makes it less likely that people donate.
IBAN and SWIFT transfers
If you would like to make a IBAN and SWIFT (for US bank accounts) transfer, then please contact me. I can also send you an invoice for accounting and taxing purposes.
Bitcoin
1KvLZpbo1AZCPsMJidUyLxS44uXGBxxHgK
Alternative subscription methods